Come What May Not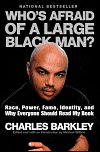 Boston Globe basketball writer Peter May got slammed a couple of weeks ago, by Bill Simmons and others, for writing a whole column questioning why the Celtics had re-signed Paul Pierce, when he couldn't leave as a free agent for several more years. May had forgotten that Pierce had an escape clause that would have allowed him free agency after next year.
There's another screwup in May's column of two days ago. I hate pointing this out, since I've always found May to be an exemplary basketball writer (he did have to hang around Brandeis all those years the Celts practiced there, after all). But on Sunday, in writing about this latest Charles-Barkley-for-governor groundswell, May wrote:
Sir Charles is pushing his new book, ``Who's Afraid of a Large Black Man?" According to the Hall, the book is a ``candid collection of 13 interviews by Barkley with prominent Americans like Bill Clinton, Jesse Jackson, Tiger Woods, Morgan Freeman, and comedian George Lopez on the subject of race."
Thing is, Barkley's book is not new. It came out almost two years ago. I read it six months ago (good read, by the way). Shouldn't an NBA columnist have been aware of this book? Doesn't he watch PTI?
Posted by Stephen Silver at August 1, 2006 10:55 AM